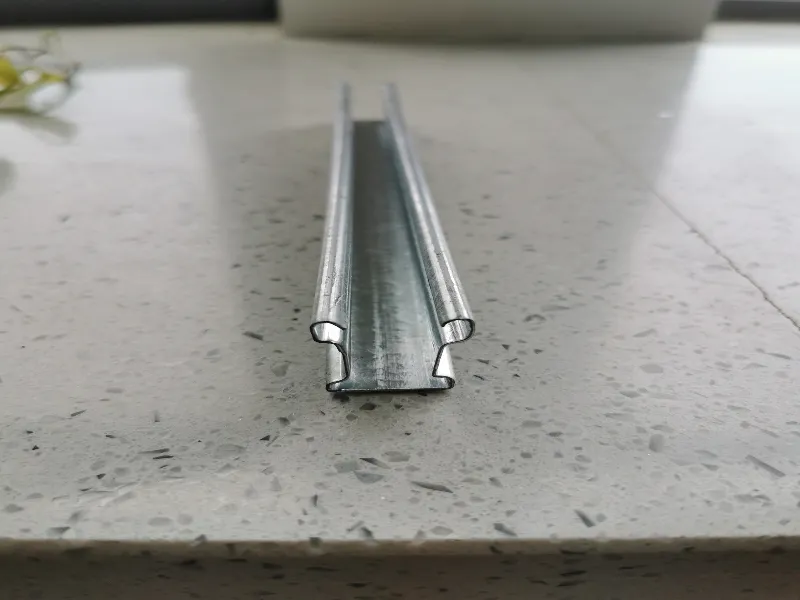 What Is Top Cross Rail Ceiling System.High Quality Drywall Steel/Steel Stud Keel Ceiling Steel Stud Price

Product Description

Product name:c channel

Application:building construction material

Surface treatment:Hot Dipped Galvanized

Thickness:0.12----1.50mm

Zinc coating:Z40-Z180

Delivery:15 Days

Port:Tianjin port

Standard:ISO

Color:Silver White

Length:1m-12m

Warranty:1 Year

After-sale Service:Online Technical Support

metal furring,aluminum stud track,metal stud

Project Solution Capability:Others

Application:Office Building

Design Style:Modern

Place of Origin:CN;HEB

Brand Name:HOPESTAR

Product Details

2Product Details

HOPESATR's light steel atopt the quality cold-rolld continuous hot galvanized rolled coils as materials,ensuring even texture,proper hardness,light weight,fire proof and convenient for assembling.They will not be influenced by any season,thus can markedly shorten construction period and enhancework efficiency.

Quality is the basis for an enterprise's existence;hence,the product quality shall take it as tis principle to exceed the clients'expectation.It is our persistent pursuit to provide clients with overbalanced products and service.

Feature:1.The product has good shape and good shape,clear edges and corners;

2.High content of zinc coating;

3.The excellent corrosion resistance,with anti shock,moisture,environmental protection,noise,temperature and other effects;

4.High standards of section size,structural stability.

Application:Buildings,factories,office buildings,hotels and other construction of the construction and transformation

Middle eastAustralia%20(1)South America

Specifications for Middle East

Main Channel 38*12 38*11 38*10

Furring Channel 68*35*22

Wall Angle 25*25 24*24 22*22 21*21 30*30

C Stud 70*35 73*35 70*32 50*35

U Track 72*25 75*25 52*25

Specifications for Auatralia

Top Cross Rail 26.3*21*0.75

25*21*0.75

Furring Channel 28*38*0.55

16*38*0.55

Furring Channel Track 28*20*30*0.55

16*26*16*0.55

Stud 64*33.5*35.5

51*33.5*35.5

76*33.5*35.5*0.55

92*33.5*35.5*0.55

150*33.5*35.5*0.55

Track 51*32 64*32 76*32 92*32 150*32

Wall Angle 30*10 30*30 35*35

Specifications for Southeast Asia

Main Channel 38*12

Top Cross Rail 25*15

Furring Channel 50*19

Cross Channel 36*12 38*20

Wall Angle 25*25

Stud 63*35 76*35

Track 64*25 77*25

Spcifications for America

Main Channel 38*12

Furring Channel 35*72*13

Wall Angle 25*25 30*30

Stud 41*30 63*30 92*30 150*30

Track 43*25 63*25 65*25 92*25 152*25

Specifications for Europe

CD 60*27

UD 28*27

CW 50*50 75*50 100*50

UW 50*40 75*40 100*40

Remark:We offer OEM service for all globle marker,we can produce the products with different sizes as customer require customized.

Product Description

3Main Product

Packaging&Shipping

6ProductionProcess

FAQ

1.What is the raw material of the product?

High zinc raw materials

2..What is the size of the product?

According to the your needs and regional scope can determine the size

3.How Vertical degree is your products?

The perpendicularity of the product is very good.

4.What national customers to buy your products?

Applicable to Southeast Asia,South America,North America,Africa,the Middle East,Europe

5.How many days is the delivery date of the product?

30 days

6.When can you order to ship?

We can order ship in 7days before end of production

7.Can produce different length size?

Yes,can be from 0.5 meters-15 meters

8.How many tons per month?

To reach 5000t

9.Can send the product picture or send the sample?

Yes,we can

10.Do you have South American model of the product?

Yes,we do

Let's grow together.We have advanced production equipment,leading production techniques,and strictly quality control.And We manufacture products from high-quality steel coils,products,and sales service make as your one-stop decoration construction supply shop.Hopestar Building is the senior steel manufacturer,the factory has more than 50 sets of production lines for galvanized steel profiles,T grid,and Accessories.The annual product quantity is 20,000 Tons.The factory has developed business with South America,Europe,Africa,and Oceania.we supply and have a commitment to making customers'projects a reality.