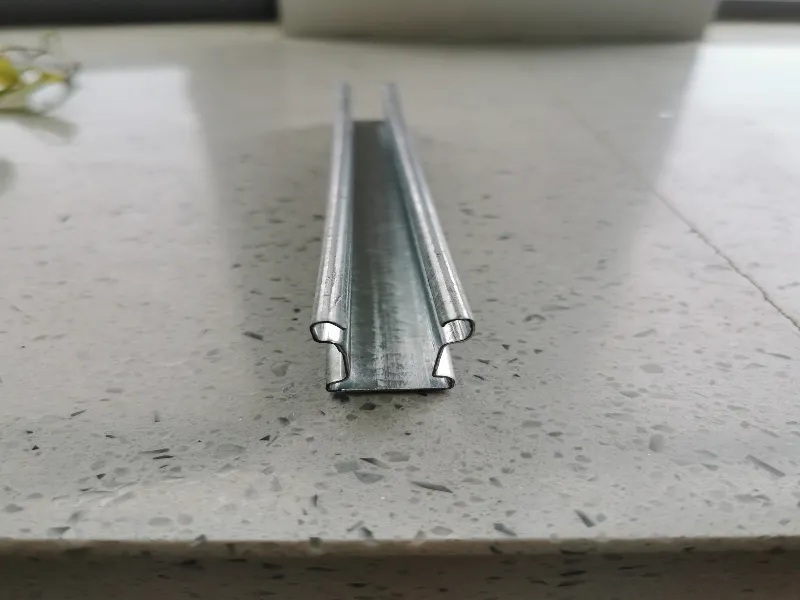 Top Cross Rail Strength.Get ready to take advantage of this lifetime discount on luxury goods offered by Hopestar Building Materials!

The top crossbar is the main channel in the concealed ceiling system.During installation,these tracks can be suspended by suspension rods and hangers,so that the lath slots can be fixed to the tracks.

Standard.

Thickness 0.75mm.

Width 25mm.

Coating quality 20g-400g/m2.

Length 3m~12m or any length required by the customer.

Surface treatment chromate/non-chromate,oily/non-oily,peeled/non-peeled.

Surface structure zero flicker,regular flicker,minimized flicker.

Hopestar building materials cooperation service level.

Quality inspection score 100.

1)thickness test.

2)outside diameter and inside diameter test.

3)length test.

Packing and shipping score 100.

1)packing according to customer requirements.

2)arrange production accurately according to customer requirements.

3)Professional logistics,strict selection of shipping companies.

After-sales service score 100.

1)within 30 days after picking up the goods.

2)if there is damage or weight problem.

3)We can guarantee unconditional compensation.

We ensure that all products meet the order requirements and relevant international standards.

Collection.

High quality material:the top crossbar is made of high quality galvanized steel coil,and the galvanized layer can be made.

100-275 grams per square meter.

Precise size:use specially customized high-precision equipment,and then you can ensure that the size is correct.

Very useful:the top crossbar uses the lock key and side clamp correctly.

Perfect packaging:the tape and pallets are packed together to make it easy for customers to unload when they receive the container.

Let's grow together.We have advanced production equipment,leading production techniques,and strictly quality control.And We manufacture products from high-quality steel coils,products,and sales service make as your one-stop decoration construction supply shop.Hopestar Building is the senior steel manufacturer,the factory has more than 50 sets of production lines for galvanized steel profiles,T grid,and Accessories.The annual product quantity is 20,000 Tons.The factory has developed business with South America,Europe,Africa,and Oceania.we supply and have a commitment to making customers'projects a reality.