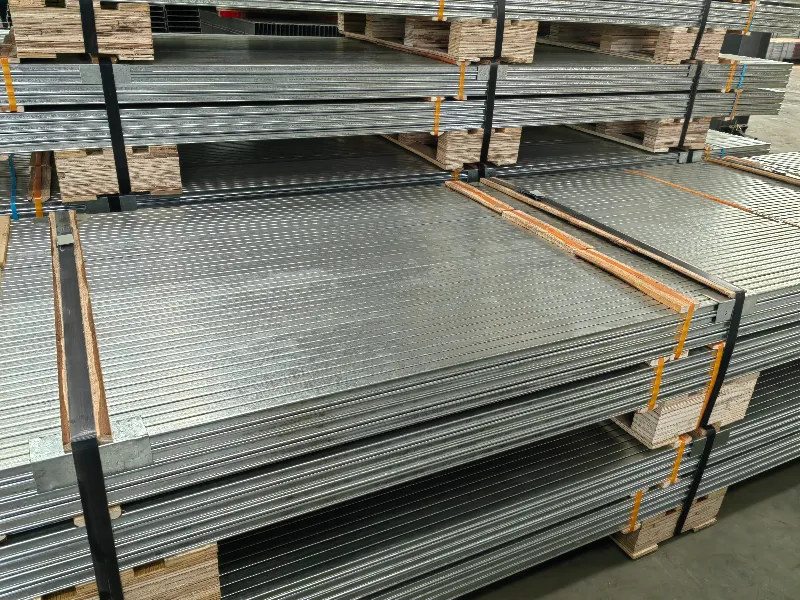 Top Cross Rail Scope Of Use.Gypsum Board Partition Metal Stud and Track

Product Description

Place of Origin:CN;HEB

Model Number:Q195/Q235

Brand Name:HOPESTAR

Material:Hot Dipped Galvanized Steel

Application:Suspended Ceiling System

Function:Waterproof Fireproof

Surface treatment:Zinc Coated

Type:Ceiling Grid Components

Product Description

Cold Formed C Stud U Track Drywall Partition Light Steel Keel

Product Description

Specifications for Middle East

Main Channel 38*12 38*11 38*10

Furring Channel 68*35*22

Wall Angle 25*25 24*24 22*22 21*21 30*30

C Stud 70*35 73*35 70*32 50*35

U Track 72*25 75*25 52*25

Specifications for Auatralia

Top Cross Rail 26.3*21*0.75

25*21*0.75

Furring Channel 28*38*0.55

16*38*0.55

Furring Channel Track 28*20*30*0.55

16*26*16*0.55

Stud 64*33.5*35.5

51*33.5*35.5

76*33.5*35.5*0.55

92*33.5*35.5*0.55

150*33.5*35.5*0.55

Track 51*32 64*32 76*32 92*32 150*32

Wall Angle 30*10 30*30 35*35

Specifications for Southeast Asia

Main Channel 38*12

Top Cross Rail 25*15

Furring Channel 50*19

Cross Channel 36*12 38*20

Wall Angle 25*25

Stud 63*35 76*35

Track 64*25 77*25

Spcifications for America

Main Channel 38*12

Furring Channel 35*72*13

Wall Angle 25*25 30*30

Stud 41*30 63*30 92*30 150*30

Track 43*25 63*25 65*25 92*25 152*25

Specifications for Europe

CD 60*27

UD 28*27

CW 50*50 75*50 100*50

UW 50*40 75*40 100*40

Remark:We offer OEM service for all globle marker,we can produce the products with different sizes as customer require customized.

Gypsum Board Partition Metal Stud and Track/Metal Profile C and U Channel

HOPESATR's light steel atopt the quality cold-rolld continuous hot galvanized rolled coils as materials,ensuring even texture,proper hardness,light weight,fire proof and convenient for assembling.They will not be influenced by any season,thus can markedly shorten construction period and enhancework efficiency.

Australian metal stud series

Top Cross Rail 26.3*21mm metal building materials,china supplier c channel steel price

Furring channel 38*16mm,38*28mm

Furring channel track 16*26*13mm,28*20*30mm

Wall angle 30*10mm,30*30mm,35*35mm

Stud 51*33.5*35.5mm,64*33.5*35.5mm,76*33.5*35.5mm,92*33.5*35.5mm,150*33.5*35.5mm

Track 51*32mm,64*32mm,76*32mm,92*32mm,150*32mm

Advantage

Convenient in installation

Light-weighted,Environment Friendly,and economical

A solid roof structure

With good effect for space dividing and beautifying

Our Services

1.If you email to us,we will get back to you within 12 hours,normally a lot sooner

2.Make sure the size and thickness,you will get a more precise price

3.We provide all kinds of specifications for your choise

4.Estimated delivery may be affected by holidays,such as spring festival,national day

5.Free sample is acceptalbe,just you should pay the delivery fees

6.Free document:commercial invoice,packing list and certification of original

7.The price of the models are subject to our final confirmation

8.The product cross-section can be customized(clear,with hole or with dot)

9.FOB port:Xingang Tianjin

Let's grow together.We have advanced production equipment,leading production techniques,and strictly quality control.And We manufacture products from high-quality steel coils,products,and sales service make as your one-stop decoration construction supply shop.Hopestar Building is the senior steel manufacturer,the factory has more than 50 sets of production lines for galvanized steel profiles,T grid,and Accessories.The annual product quantity is 20,000 Tons.The factory has developed business with South America,Europe,Africa,and Oceania.we supply and have a commitment to making customers'projects a reality.