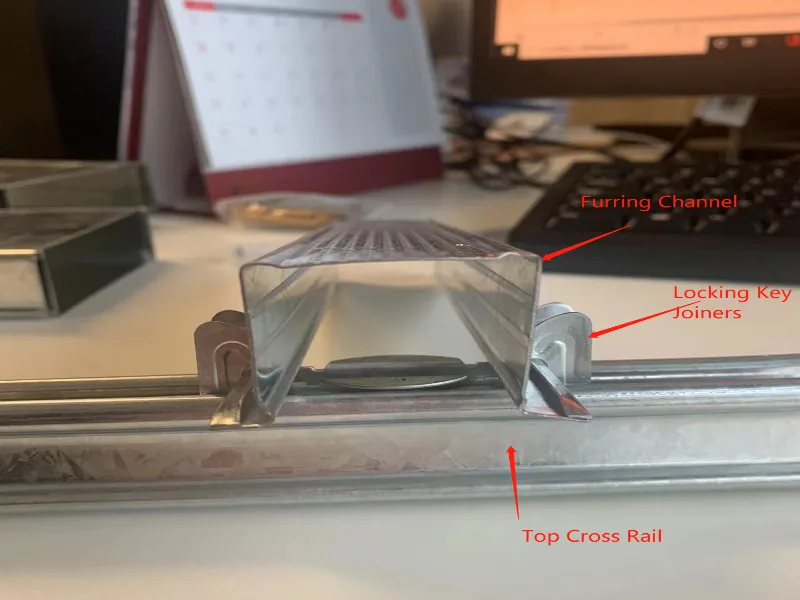 Top Cross Rail Ceiling System Service.How to correctly install external soffit ceilings.

An external soffit ceiling is any ceiling built outdoors or subject to external wind pressures,such as a verandah on a multi-storey apartment,a covered walkway or a wet-weather shelter at a sports pavilion.

We regularly hear reports of incorrect installations of external soffit ceilings,where practices deemed as acceptable for internal ceilings have been used to install ceilings that are clearly external.

Ceilings installed in these circumstances will experience considerable uplift or upward wind pressure,much greater than that experienced indoors,and if the standard adjustable spring hanger brackets are used(Hopestar M520 or M534),there is a risk that the ceiling system will move up and down on the hanging rod,causing the system to be weakened and damaged.

A basic rule of thumb for external soffit ceilings is that no adjustable mechanisms can be used:all parts of the ceiling system must be securely fastened by means of screws or bolt/nut combination.

To achieve this,the system must be suspended from the substrate with a downstrut,such as a length of steel stud or top cross rail(see Figure 1).This eliminates any possible upward or downward movement of the ceiling system.Alternatively,you can use a threaded rod which is locked off with two nuts and the Hopestar M24 bracket.For fixing spacings,refer to the table(below right).

The maximum uplift pressure suitable for each installation must be determined by the project engineer and all ensure that the engineer agrees with your interpretation of this table prior to installation.Some installations may require a variation to these spacings,depending on the building type,location and other limiting influences.

Footnotes

Servicability limit state deflection rateio L/250.

If TCR spacings=1200mm,Hopestar M29 furring channel to be installed at 600mm centres.If TCR spacings=900mm or less,Hopestar M29 furring channel to be installed at 450mm centres.

Fastener connections to be in accordance with fastener manufacturers specifications

Let's grow together.We have advanced production equipment,leading production techniques,and strictly quality control.And We manufacture products from high-quality steel coils,products,and sales service make as your one-stop decoration construction supply shop.Hopestar Building is the senior steel manufacturer,the factory has more than 50 sets of production lines for galvanized steel profiles,T grid,and Accessories.The annual product quantity is 20,000 Tons.The factory has developed business with South America,Europe,Africa,and Oceania.we supply and have a commitment to making customers'projects a reality.