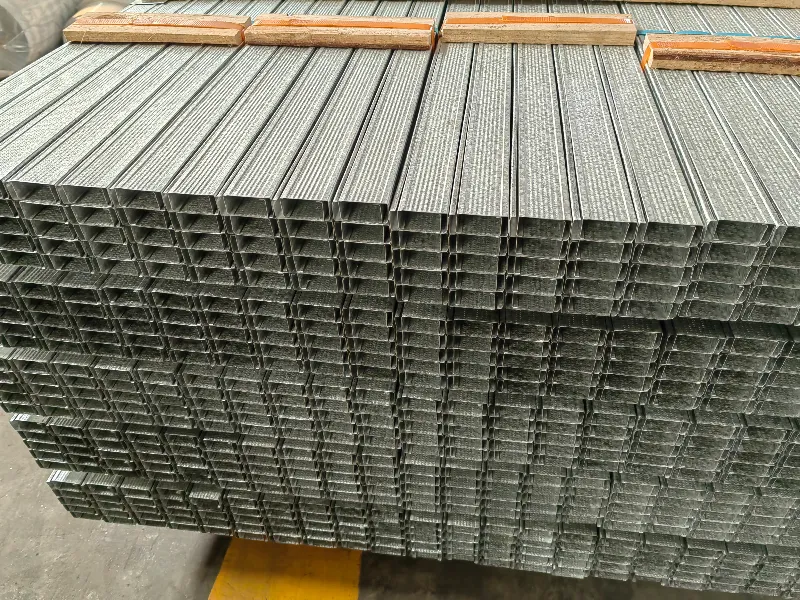 Ceiling Batten16mm Service.HOPESTAR™It has various steel wall products that are easy to install.Each Hopsta™Wall systems feature lightweight handling,familiar installation processes,and many durable features to provide high-quality architectural solutions.

Tables 1.1 and 1.2 together with Figure 1 show the available standard Hopper towers™Studs and Hopsta™Track size and corresponding base metal thickness range.Other dimensions are also provided depending on the availability of structural data.Hopsta™The standard track can provide all dimensions of 3.0m standard stock length;Other lengths or cut lengths are also available upon request.Hopestar™Whisperwall™And standard Hopestar™Studs are available in 2.7m,3.0m,3.3m,3.6m and 4.2m standard stock lengths;It can also be cut to length as required.

Hopsta™The continuous NOG track[Figures 1 and 17]provides a standard stock length of 3.0 meters,suitable for all standard sizes of Hops Tower™Studs and standard Hopsta™Stud center.Hopsta™With other Hopsta™A continuous NOG rail at the stud center is also available on request.

™Ltd.reserves the right to adjust,change,improve or improve the profiles without notice.If you need any further information or want to discuss your personal needs,please contact us.

Our standard steel studs have a face width of 32 mm.

Provides superior acoustic performance and additional fire resistance.

It is easy to install when using Hopestar products.Pre punched threaded holes(diameter 4 mm)at 30 mm centres.

SRV Curv-E tracks make curved walls easier and allow better adaptation to high seismic and internal pressure loads.

Our standard deflection track has a leg length of 50 mm,but Hopestar can make different leg lengths to suit the application.

Vertical deflection is allowed,and the stud is screwed on the slotted head rail.

A row of taps within 100 mm of the head track is not required.

It can also be used for column bridging,where columns are used as ceilings.

The groove center is 25 mm,the length is 32 mm,and the width is 6.5 mm.

Hopestar double groove NOG track is specially designed for back-to-back studs.Please confirm the breeding center when ordering.

After installing the frame,repair it quickly and easily.Designed for standard and acoustic studs.

Simply bend and fix the pre punched support plate on the edge of the stud.The track length is 3000 mm.

Two piece grooved track designed for the connection of ciphertext wallboard.The track length is 3000 mm.

In combination with 16 mm and 28 mm slats,provide a wall strip solution.The central dimension of the space ceiling is 1200 mm,and the central dimension of the wall is 900 mm.

The acoustic zero position clamp is equipped with a threaded rubber gasket to separate the wall from the frame.

For strengthening concrete and block walls.Includes threaded holes and stone anchors(65 mm-180 mm).

In combination with 16 mm and 28 mm slats,the length is adjustable and the insulation can be installed.

At 0.75 BMT,the length of plywood is 200 mm and the step is 18 mm.Fabricate acoustic sealing walls that are suitable for standard face stud widths or wider.

Let's grow together.We have advanced production equipment,leading production techniques,and strictly quality control.And We manufacture products from high-quality steel coils,products,and sales service make as your one-stop decoration construction supply shop.Hopestar Building is the senior steel manufacturer,the factory has more than 50 sets of production lines for galvanized steel profiles,T grid,and Accessories.The annual product quantity is 20,000 Tons.The factory has developed business with South America,Europe,Africa,and Oceania.we supply and have a commitment to making customers'projects a reality.